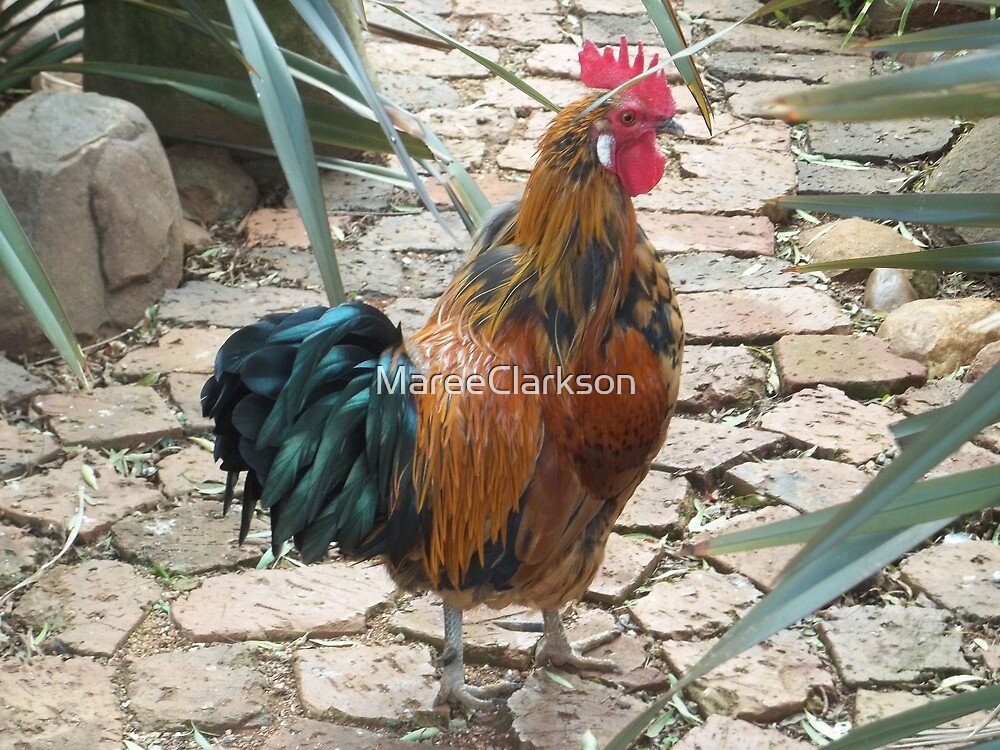 Kentucky in the middle of his moult
.
Life on a farm or smallholding is certainly exciting and out-of-the-ordinary, to say the least. The thrill of having a big tract of land at one's disposal conjures up images of green fields, herds of cows, goats, sheep or whatever and neat, tidy and sturdy fences keeping everybody organised and in their place, sheds for lots of storage and the farm cat lazily strolling around on the look-out for those pesky rodents. The (old) tractor and trailer is loading and moving bales of food and the sprinklers are gently wetting the earth and getting everything to grow, grow, grow into MONEY!
.
For the lady of the farm, there are images of a rambling, yet comfortable, old farmhouse with chimneys and wrap-around porches, rolling green lawns and a herb garden close to the kitchen. Home-made butter, full cream Jersey milk, home-made bread and fresh garden vegetables are first on the list of things to do.
.
.
And of course, there have to be chickens (for Sunday lunch – except we can't slaughter Kentucky, the rooster, because he's such a character, or his wife Hendrina, because she's so sweet, or Betsy and Babs because they're best friends...) and eggs for breakfast, to go with the home-made bread. You might have a couple of pigs (for the bacon – just not Miss Piggy because we reared her with a bottle) and then the kids want some rabbits, because there will be lots of carrots to feed them.
.
So now the vegetable garden has become a priority (after all the pens for chickens, pigs, rabbits, goats and sheep have been erected). And after all the beds have been properly prepared, fertilized and planted, at great expense, the first seedlings start showing their heads. Your next priority is a scarecrow or SOMETHING to keep away all the birds destroying the seedlings (after you have put up bird feeders all over the garden to attract garden birds!).
.
The vegetables are ready to be harvested and suddenly you find that EVERYTHING is ready at the same time! You now have 20 bags of cabbages, thousands of carrots (the rabbits can't keep up! even though the original two have now become 11), enough beetroot for several restaurants (a business opportunity?), every shelf and drawer of the refrigerator is packed with tomatoes and you have enough green beans and peas for six months. And family and friends can't understand why they have to pay for "free" vegetables from your own garden!
.
You also have so much milk and butter and cream now, that you decide this is definitely worth the trouble of selling it. You spend your mornings in the 'bakkie' (pick-up) delivering milk (which has to be in an utterly bacteria-free bottle otherwise it goes sour within a couple of hours, so you spent the whole of last night sterilizing bottles and getting up early was a nightmare) … and there's still so much to do when you get back … The chickens and rabbits have to be fed (and there's a hole in the fence so the rabbits are all in the vegetable garden), the milk from the cows that were milked at dawn has to be de-creamed (for the butter), the butter has to be made and bottles sterilised once again – and some of the neighbours never left their bottles out, so you actually have to rush to town as well to buy a dozen more. And the local market where you established a contact for selling some of your vegetables expects their delivery before 7.30am. You suddenly remember that you also have to be back in time for the truck collecting the pigs you sold because everybody at home suddenly had an aversion to bacon and besides, nobody wanted the job of cleaning the pig sties … besides, the tractor broke down last week, so the trailer couldn't be loaded with all the muck to be taken away – will have to wait a while now …
.
You're sitting on your wrap-around porch, exhausted, having a well-deserved cup of tea, admiring your green fields and neat fences and your heart swells with pride and gratitude – this is ALL YOURS! No matter all the hard work and early mornings – you now have a steady income from the vegetable garden, which has grown to three times its size, and the milk and butter, and the kids are enjoying the new pony enormously. You have learnt what to cut down on (like rabbits, for instance) and everybody has fallen into a comfortable routine, knowing exactly what needs to be done when.
.
Your thoughts stray to a new idea – how about a strawberry patch? Surely there's a big market for strawberries – and mushrooms, maybe …?
.
"Whatever you put your attention on gets energy from you and grows."
.
::